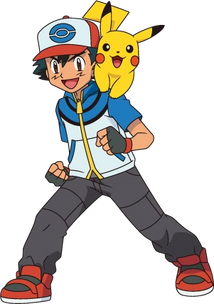 Ash Ketchum is a fictional character in the Pokemon franchise and Nintendo. He is protagonist out of Pokemon Series. He dreamed to become a Pokemon Master.
He and Pikachu are the members of Ultimate Defender and adoptive brother of Ethan Tidwell.
In "Fusion of Two Warriors", He and others members of Ultimate Defender helped the Majestic Guardians to defeat Janemba.
In Majestic Guardians movie "Bio-Broly", he along with Ultimate Defender and Majestic Guardians were invited by Demona to an island to face them by using Bio-men.
Ad blocker interference detected!
Wikia is a free-to-use site that makes money from advertising. We have a modified experience for viewers using ad blockers

Wikia is not accessible if you've made further modifications. Remove the custom ad blocker rule(s) and the page will load as expected.