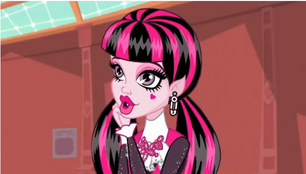 Draculaura is 1,599 years old and is Dracula's daughter. She is a 'vegan' vampire, meaning she doesn't drink blood or eat anything fleshy, and she appears to be hemophobic, which means she is afraid of and cannot even say "blood" without fainting. She is a fictional characters from Monster High.
In Majestic Guardians, She and the others are good friend to Terrence.
Ad blocker interference detected!
Wikia is a free-to-use site that makes money from advertising. We have a modified experience for viewers using ad blockers

Wikia is not accessible if you've made further modifications. Remove the custom ad blocker rule(s) and the page will load as expected.