Janet Van Dyne, also known as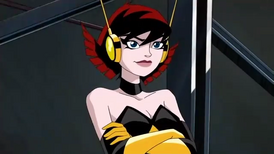 Wasp is a superheroin from the animated series based on Marvel comics, Avengers: Earth's Mightiest Heroes. In the series she is like a partner and a love interest of Henry "Hank" Pym, a.k.a. Ant-Man/Giant Man/Yellowjacket.
She is the Majestic Guardians member with the abilities to shrink, fly, and shoot energy beams. She also displayed her ability to grow into a giantess as shown when she fought the android, Ultron.
In the Majestic Guardians series, she is infatuated with the Dragon Halfa, Terrence Silva, which the latter is aware of. But it is unknown whether or not this could cause a rivalry between her and Katara due to the waterbender being Terrence's love interest. Why she becomes interested with Terrence is not certain.
In the Neo Crusaders story, Brothers Reunion, she broke up with Hank when he insulted Terrence out of fear of losing her, due to Wasp's infatuation with the Dragon Halfa. But later, she and the others forgave Hank after he sacrificed his life, and later mourned for the death of the former Avenger.